19 Feb

David Didau Teacher Training Workshop

As part of the St. Paul's Professional Development Programme, we will be hosting a one-day teacher training workshop with David Didau.

David taught English for 15 years in a variety of schools in the UK and overseas. He started blogging about his experiences of teaching in 2011. That blog, The Learning Spy, is now widely recognised as one of the most influential education blogs in the UK. Didau currently works as a freelance writer, speaker and trainer, and is employed by Swindon Academy as an internal consultant on curriculum design, teaching and literacy.


David´s one-day training session here will focus on the following areas:

Cognitive Psychology: how the Working Memory Model helps teachers understand how students learn; cognitive load theory and how we can support learning by manipulating task demand and available resources; desirable difficulties and the links between struggle and success

Applying Research: an overview of popular research findings; how to think critically about research, questions to ask about new policies; how to evaluate impact; a case study of research into ability setting

Behaviour: the psychology of motivation, social norms, group behaviour and rewards & sanctions

We are delighted to be able to offer a limited number of places at this unique event designed for school leaders, coordinators, heads of department and teachers.


We hope you can join us!
PROGRAMME
9:00 Cognitive Psychology
11:00 Coffee Break
11:30 Applying Research
13:30 Lunch
14:30 Behaviour
15:30 Coffee Break
15:45 Behaviour
16:45 Questions
17:00 Finish
What is included in the registration fee?
Participation in the workshop
Wifi connection at the venue
Coffee breaks
Buffet style lunch
Conference material
ACCOMODATION AND TRAVEL
The Hotel Abba Garden ★★★★,  less than 2km from the school will offer special rates for  participants, if you are interested please let us know.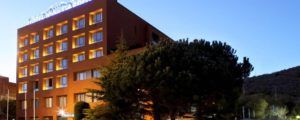 St. Paul's School is situated in Avenida Pearson in the exclusive neighbourhood of Pedralbes on the outskirts of Barcelona, a priviledged location at the foot of the National Park of Collserola. Easily accessible fromthe centre of the city and only 14k from Barcelona Airport and 5km from Barcelona Sants station.