23 Sep

Introducing our Global Humanities Program of Studies

"We cannot solve our problems with the same thinking that we used to create them." Albert Einstein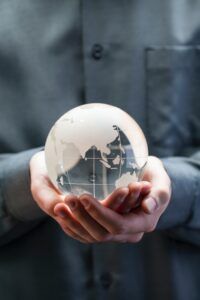 The constantly changing and increasingly complex global world we live in today requires us to continuously adapt how we prepare our students for success. At St. Pauls this means ensuring that our curriculum and educational experiences are rooted in a breadth of academic competencies, but also include the development of critical thinking, persistence, and creativity.
In Secondary we work towards developing our global learner profile. This profile embodies all the academic, technological, personal and social competencies that we believe our learners need for success in this new, fast changing environment. With this in mind, an important initiative for this academic year is the alignment and expansion of our Global Humanities Program of Studies from an international perspective.
GHPS is composed of 2 core areas. The first core area is centred around the academic classes offered at school to develop understanding and important subject knowledge. This academic year we will see new curriculum and areas of study within Social Studies; including the implementation of a 2-year course (ESO3 and ESO4) called Global Citizenship and a new required class in ESO4 called Comparative Religious Studies. These classes are based on coursework to develop an understanding of history and geography, politics, human rights, justice, law, and the economy.
The classes are all taught in English and whilst the focus is on content, the students are also required to expand their use of English in this new context.  They work on assimilating and understanding new vocabulary and complicated concepts and are also are exposed to different sources and materials in English.
The methodology used in these classes is aligned with the methodology used in other international programs of study such as the IGSCE and the International Baccalaureate. However, this international perspective is balanced with a curriculum maintaining a strong focus on understanding our local historical, political, and geographical environment. At St. Paul's we believe that these changes in our curriculum will help to ensure our students to develop global competence combined with a sound understanding of their immediate environment.
The second core area is the provision of hands-on practical work which ensure students consolidate their learning and engage meaningfully in a variety of experiences developing life skills and an awareness of the world around them. This year we look forward to continuing our work preparing for and participating in various European Model United Nations events. MUN gives our students insight and understanding to how the United Nations works and specifically teaches them about parliamentary procedure. The students grapple with real world problems and have to think creatively to develop and propose solutions. The preparation for these events and subsequent participation develops public speaking, critical thinking, diplomacy, research, and teamwork.
Collaboration within our own community is another important objective of this approach. Students in secondary have always collaborated within the St. Pauls community to help younger learners throughout the year in different subject areas on special days and/or during special events. This year this collaboration will be evident through the realization of the project "Building St. Paul's" where ESO4 students will work with small groups of P5 students on a weekly basis organizing different collaborative games and activities.
Our Community Service module continues to develop and grow. Participation in this required module gives our ESO4 an amazing opportunity to be involved with important work in our local neighbourhoods. Students get a real understanding of a variety of different social problems and get to actively participate and help to make a difference. Whether they are helping to serve food at a local shelter, visiting with seniors in a residence or helping to prepare activities for people with disabilities, our students make a difference in the lives of fellow citizens and learn to become more empathetic and aware young people.
At St. Paul's we work ruthlessly to ensure our students are well prepared to be active and responsible citizens of the world they will soon inherit. This means not only ensuring that they obtain certain academic qualifications (something that they will all undoubtably do) but also that they are culturally aware human beings with an understanding of the interconnectedness of our world. We want our students to be motivated and inspired to address global problems, make change, and improve life as we know it.
We believe that a solid humanistic approach to learning coupled with technology and innovation is the key to preparing our citizens of the future.
Claire Neely
ESO Coordinator