25 Jul

St. Paul's School Barcelona: An Enriching and Collaborative International Experience.
The International Office team visits the United Kingdom to strengthen ties with prestigious educational institutions.
The development of St. Paul's School's International Office continues to progress. In the summer of 2023, we had an international experience in United Kingdom to meet with some of our rigorously selected collaborating schools. These schools boast great prestige and share values such as personalized attention, tradition and innovation, and the well-being of our students as a top priority.
Over the past twenty years, the school has established strong collaborations with renowned educational institutions in the UK. During this recent trip, we met with Kilgraston School, St. Lawrence College, Ashford University, and Bethany School. These strategic partnerships will offer our students unique and enriching opportunities for cultural experiences and learning. And, of course, they will help students expand their circle of friendships!
Personalized Attention for Each Student
At St. Paul's School, we recognize and foster the uniqueness of each student. Personalized attention is a fundamental pillar of our educational philosophy, and through a tailored approach, teachers and school staff provide the necessary support for each student to reach their full potential. This extends not only to academic excellence but also to students' personal growth and the provision of unique opportunities in collaborating educational centres through our International Office.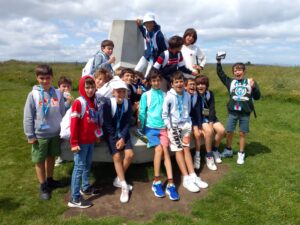 Shared Values in an International Environment
Collaborations with other internationally focused schools are built upon a rigorous selection process. Our criteria are based on shared values, such as a commitment to quality education and excellence, resilience and integrity, personalized attention, innovation, and a focus on student well-being. Working together, both institutions strive to provide exceptional experiences that prepare students for a global future and enable them to develop valuable intercultural skills.
Tradition and Innovation Hand in Hand Amongst  Different Educational Methods
At St. Paul's School, we understand the importance of combining the richness of educational tradition with the necessary innovation to adapt to a constantly changing world. This balanced approach allows students to benefit from the best of both worlds. As such, students participating in international projects can experience innovative educational methods, updated pedagogical practices, as well as traditional values inherent to education in this new environment. A pedagogy tailored to the student, in an environment capable of providing them with the same comprehensive and impeccable education they would receive at St. Paul's School.

Student Well-being as a Priority
The well-being of our students is an absolute priority. The International Office promotes a safe and positive environment that fosters students' physical, emotional, and mental health during their international experiences. Through support programs and extracurricular activities, the aim is to strengthen self-esteem, mutual respect, and motivation to achieve personal and academic goals. All the schools are committed to creating a cohesive community where each student feels valued and supported.
St. Paul's is a school in Barcelona open to the world and committed to providing our students with an enriching international educational experience.