29 Jun

St. Paul's School among the schools with the best language comprehension

A few weeks ago, the results of the PIRLS report were published, an international test of language comprehension taken by fourth grade students. Spain obtained the worst results in reading comprehension in the last seven years, ranking below the average of the EU and the OECD.

In contrast, the results achieved by St. Paul's School during the 2023-24 academic year in the "Avaluació d'Educació Primària del Departament d'Ensenyament", which evaluates language competence throughout Catalunya, were a great success.  

Highlighted Language Comprehension Skills
As part of the annual assessment, the Department of Education administered targeted tests to evaluate the oral comprehension, reading comprehension, and written expression skills of primary school students. Within the framework of the trilingual program implemented at St. Paul's School, these competencies were assessed in English, Spanish, and Catalan. The results obtained serve as a strong endorsement of our educational system and affirm the effectiveness of our approach in developing language skills across multiple languages. We are proud to see our students excel in their linguistic abilities and thrive within a trilingual environment. 
In relation to the reading skills of our students, we place particular emphasis on the results of the "competències bàsiques" (basic competencies) in sixth grade. These competencies highlight their ability to identify the main idea, locate specific information, and draw conclusions that enable a comprehensive evaluation of a text. These skills are fundamental in fostering strong reading comprehension and critical thinking abilities. By excelling in these competencies, our students demonstrate their capacity to grasp the core concepts of a text, extract relevant details, and form well-founded judgments. We take pride in their achievements and recognize the importance of nurturing these essential reading skills.
Equally fascinating and encouraging are the aspects evaluated in the realm of written expression, closely intertwined with reading. These include the organized presentation of ideas, the appropriate use of registers, the employment of suitable vocabulary, and accurate spelling. These components play a vital role in effective written communication and demonstrate a comprehensive understanding of language. By emphasizing these aspects, we aim to equip our students with the necessary skills to express themselves eloquently and convey their thoughts and ideas with clarity and precision.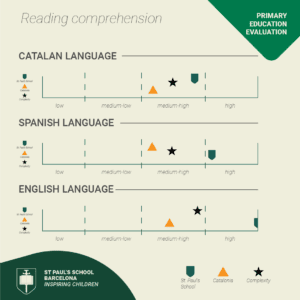 The Impact of Reading on the Development of Different Neural Networks.
Reading is indeed a marvelous exercise for our minds. Through the words and descriptions found in books, we stimulate our imagination, generating mental images that, in turn, create new neural connections and restructure our brain. Traditional reading and digital reading both facilitate this cognitive process, which is why we offer both modalities at St. Paul's School.
Are printed reading and digital reading distinct processes? Certainly. Printed reading, often referred to as linear reading, fosters analysis, contemplation, and the internalization of knowledge. It is a multisensory experience that allows students to physically turn pages and feel the book in their hands. This tangible aspect undeniably adds an emotional dimension that favors traditional reading.
On the other hand, digital reading is characterized by its flexibility. It offers easy access to a vast array of content and integrates multiple functions, such as games, connectivity, and reading, all within a single device. This versatility expands the potential opportunities for reading among its users. Additionally, digital reading allows for text enlargement to any size, making it more accessible to individuals with vision impairments and reducing their limitations. By leveraging digital platforms, we can provide a more inclusive reading experience that caters to the diverse needs of our students and fosters a love for reading across different formats.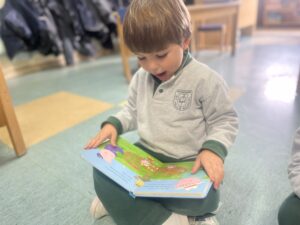 At St. Paul's School, we prioritize books, reading spaces, and libraries to nurture our firm belief that investing personal time in reading is always a worthwhile endeavour. To support this belief, we regularly update our literary collections in all three languages, ensuring a constant rotation of books. By providing a dynamic and ever-evolving selection of literature, we aim to cultivate a love for reading and encourage our students to explore a wide range of literary works in multiple languages.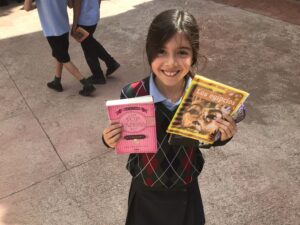 Nevertheless, the world is constantly evolving, and our approach to reading must evolve with it. In today's digital age, technology affords us the ability to engage with a wide range of digital formats, including websites, blogs, social media, emails, e-books, WhatsApp messages, and many others. These diverse formats undoubtedly influence our language comprehension processes in various ways. The digital era offers unprecedented possibilities that we can harness to create innovative and captivating educational activities for the students of St. Paul's School.
Through these activities, we make significant contributions to achieving the overarching objectives of the curriculum, with a particular focus on reading and writing skills. We integrate the use of iPads, platforms, and digital resources such as interactive reading materials, which effectively stimulate and enhance our students' participation and engagement. By embracing digital tools and resources, we empower our students to navigate the digital landscape, develop critical digital literacy skills, and become active participants in the modern world.
At St. Paul's School, we firmly believe in striking an equilibrium between different forms of reading, encompassing both the physical and digital realms. We strive to find a middle ground by utilizing a diverse range of resources and fostering the development of various learning approaches. Our ultimate goal is to enhance reading comprehension while instilling a deep appreciation for literature, all within the context of three languages. This holistic approach allows us to provide our students with a rich and immersive language experience that empowers them to become proficient and passionate readers across multiple linguistic domains.
A balanced formula that consistently produces positive results, as evidenced by this year's "Avaluació d'Educació Primària del Departament d'Ensenyament."